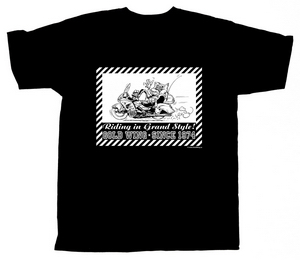 Detail view of the printing: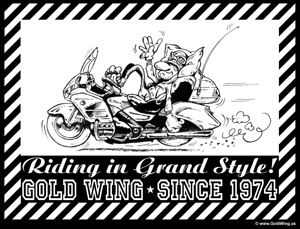 Black "Riding in Grand Style - Gold Wing since 1974" t-shirt

The Honda Gold Wing in all its evolutionary stages is a touring bike that has offered comfort and ride quality at its finest even on the longest trips since 1974.
Our t-shirt hits the nail on the head with a fantastic new t-shirt: "Riding in Grand Style: Gold Wing - Since 1974." What slogan would be more apt to describe the fascination these bikes exude?

TECHNICAL SPECIFICATIONS:
Black t-shirt with white printing on the chest.
High quality (195 g/m², 100% cotton single jersey) and maximum comfort.
Printed in the EC using environmentally friendly and skin-friendly colours!
Washable up to a maximum of 40 degrees Celsius.
Sizes: M, L, XL, XXL, XXXL.



Secure online shopping: